Allegro Ballet of Houston presents Breakfast with The Sugar Plum Fairy and Sugar Plum Market 2021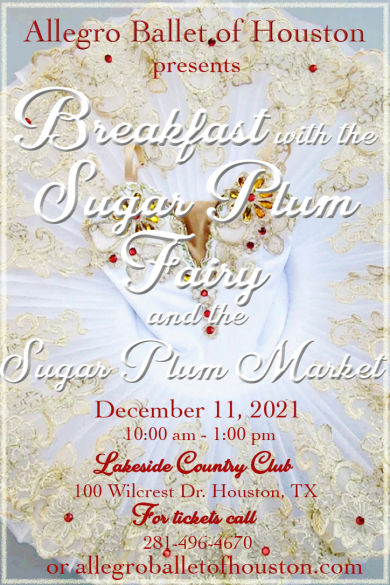 Allegro Ballet of Houston
presents our annual
Breakfast with the Sugar Plum Fairy & Sugar Plum Market
Come and enjoy a beautiful breakfast with the Sugar Plum Fairy and her friends from The Nutcracker Ballet. You will never forget the look in your child's eyes when the Sugar Plum Fairy bends down to give her a hug. Create wonderful memories that will last a lifetime for you and your little ones. The costumed characters will interact with the guests enhancing all of the Christmas wonder and holiday magic. Excerpts from The Nutcracker Ballet will be performed. The children will also have an opportunity to dance with the ballerinas. A limited number of character tables are available on a first come first served basis. Reserve yours today!
Start your holiday shopping at the accompanying Sugar Plum Market. Top vendors will present their amazing merchandise. These vendors have been carefully chosen for their attention to detail and their extraordinary products and services. Custom clothes and hair bows, beautiful tutus, stunning jewelry, and much more await!
You are sure to find the perfect gift for that special person on your list.
If you would like vendor information, call 512-736-8080.
You will not want to miss this wonderful holiday tradition!
Breakfast with The Sugar Plum
Fairy
Lakeside Country Club
Saturday, December 11th from 10:00 am - 1:00 pm
Tickets go on sale on Monday, November 1st, 2021 at 9 AM CT.