Alta HS Theatre presents "The Spongebob Musical"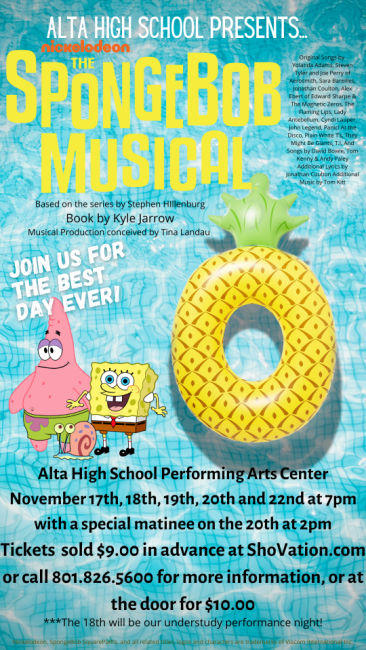 Alta High School Theatre department is pleased to present "Spongebob the Musical". Enjoy several outstanding performances featuring our talented performers as they bring this iconic cartoon to life. Your family won't want to miss it"! Please join us for one or more performances.

Students and families are encouraged to attend.
Masks are encouraged.


Alta High School Performing Arts Center
11055 South 1000 East
Sandy, UT 84094
Wednesday, November 17th, 2021 at 7:00 pm
*Gala will occur 6:00-6:30 pm before the Wednesday show.
Thursday, November 18th, 2021 at 7:00 pm
Friday, November 19th, 2021 at 7:00 pm
Saturday, November 20th, 2021 at 2:00 pm and 7:00 pm
Monday, November 22nd, 2021 at 7:00 pm

Gala ticket presale will begin on Monday, October 25th at 8 am MT.
Tickets on sale Monday, November 1st at 8 am MT.