Seeing 2020: Fear, Hysteria and Mass Manipulation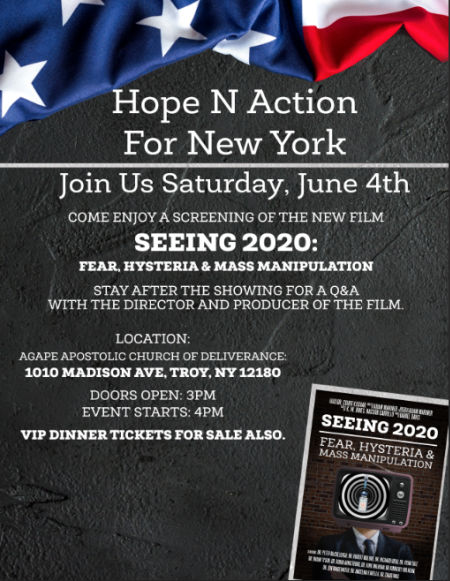 Seeing 2020: Fear, Hysteria and Mass Manipulation - Hope n' Action For NY
This showing is in conjunction with: Hope n' Action For NY
Ticket Price:
$15 (screening), $100 (VIP Dinner)Screening Location:
Agape Apostolic Church of Deliverance
Date:
Saturday, June 4, 2022
Time:
Doors open 3:00pm
Screening Time:
4:00pm (Event runs from 3:00pm-7:00pm)
VIP Dinner: Saturday, June 4, 2022.

Buy Tickets >


(8:00-10:00pm - location details to be announced by email)
Feautring:
Adam Mariner, Director of "Seeing 2020 - The Censored Science of the COVID-19 Pandemic" documentary.
Join us for a screening of the film SEEING 2020 and stay after for a live Q&A with the director of the film Adam Mariner along with physicians. This event is a protest against censorship and will expose the truth about 2020 and what went wrong. Starting on May 3, 2021, SEEING 2020 will be available, in various locations, for screenings across the country.
The year 2020 brought COVID-19 to America and changed nearly everything. So many voices and conflicting information telling us what to do and how to protect ourselves, it has been hard to know who to trust. Now we can look back with 20/20 vision and see clearly for the first time. This film details the experiences of a group of doctors who have been censored for asking difficult questions and pushing against the prevailing narrative. It reveals the consequences they faced for speaking out and providing treatment for those afflicted or at risk. We encourage freedom of thought and freedom of speech. Science is based on unbiased observations and systematic experimentation and is discussion at its core. We must be able to ask and be heard.