Alta Ballroom Team in Concert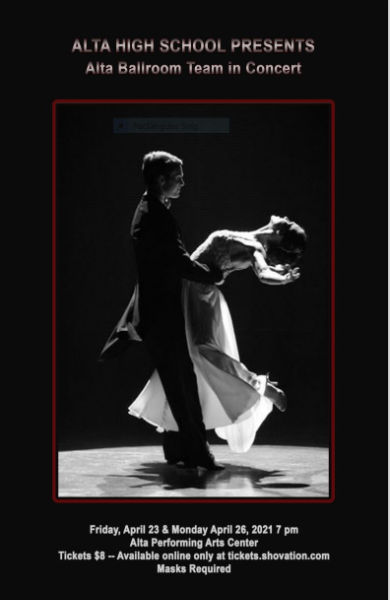 Alta High Performing Arts Department is pleased to present The Ballroom Team In Concert. We are honored to perform several numbers choreographed by guest artists including: Andrea Hale-Tatton, Paul Winkelman, Charlie & Emily Roberts, Casey & Kayci Treu, and Daniel Pollack. We hope you will join us as we continue to grow our Alta Ballroom Team legacy and share our passion and love for dance.

Students and families are encouraged to attend.
Please honor social distancing rules outlined on your ticket.

Please note: Due to Covid restrictions: Mask and Social Distancing will be required.

Alta High School Performing Arts Center
11055 South 1000 East
Sandy, UT 84094
Friday, April 23rd, 2021 at 7:00 pm
Monday, April 26th, 2021 at 7:00 pm

Masks and Social Distancing will be required.
Families must have an adult 21 or older sitting with them

Ballroom Team presale on Friday, April 12th at 8 am - Tuesday, April 13th at 11:59 pm MT.
Tickets on sale Wednesday, April 14th at 8 am MT.