2017 "The Nutcracker Suite" presented by Phoenix Youth Ballet Theatre and Arizona Dance Artistry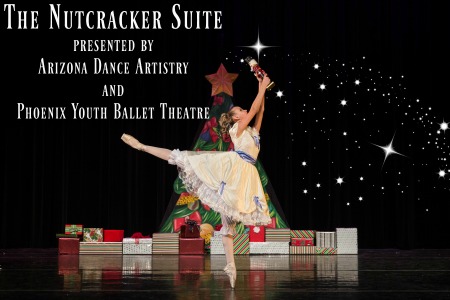 Join us for Arizona Dance Artistry and Phoenix Youth Ballet Theatre's 9th annual production of "The Nutcracker Suite" November 17th-19th, 2017 at Cactus High School Auditorium. Directed and produced by Samantha Gobeille, this is a unique youth ballet production with a cast of over 100 young dancers ages 3-17 years and brought to life with professional sets, over 10 backdrops and 150+ costumes. Join us this season for this holiday classic!
*Girl Scout workshop is offered on Saturday, immediately following the performance. Please purchase tickets online to the performance and contact Heather Fisher for workshop availability
hfisher@ftec.net
Cactus High School Auditorium
Friday, November 17th at 6:30 pm
Saturday, November 18th at 5:00 pm
Sunday, November 19th at 5:00 pm

There are 3 performances of "The Nutcracker Suite" 2017. Please be sure to select the correct performance if you are attending to see a specific dancer,
please see our cast list on our website here.
http://www.arizonadanceartistry.com/the-nutcracker-suite/
Tickets go on sale to the general public on October 18th at 12:00 pm (noon).