Allegro Performing Parents Assocation (TAPPA)
ALLEGRO PRECISION DANCE COMPANY - This dance company is the elite of Allegro's students that commit extra time to training, performing and competing. They are of all ages and levels and we are very proud of their hard work and success throughout the year. Auditions are in early July every year and a parent is required to attend an informational meeting about the rules and expectations of the company before their child auditions.
You can see our performers at many festivals, competitions and local events throughout the year.
The Allegro Performing Parents Association (TAPPA) is the fundraising entity for Allegro Precision Dance Company. All proceeds raised from donations benefit the training and competition expenses of the Company dancers. Thank you for your generosity!
The Allegro Performing Parents Association (TAPPA)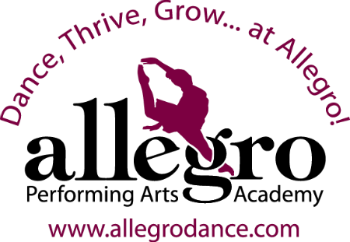 Donations are needed this season. Your generosity is greatly appreciated. Please fill out your information so that a tax-deductible receipt can be emailed to you.
Donate