Allegro Ballet of Houston
The Allegro Ballet of Houston is a non-profit organization that was chartered in 1951. Allegro invites you to play a vital role in developing a most precious resource-our community's talented young people. Allegro is solely supported by ticket sales from performances, fund-raising projects, donations and contributions. If our ambitious programs for the year ahead are to be realized, however, YOUR generous support is very much needed and appreciated.
Please help us ensure that our community's talented young people will continue to benefit from dance training and performing experiences that enrich our city's cultural arts enjoyment.
Allegro's devoted and disciplined young dancers thank you for sustaining their talents and aspirations, and for helping preserve an important Houston cultural tradition.
Your donations also help fund the dancers travel expenses.
Your tax-deductible contribution will help us reach our goals for funding and our futures!
Allegro Ballet of Houston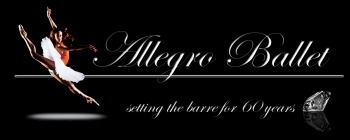 Donations are needed for the current season. Your generosity is greatly appreciated. Please fill out your information so that a tax-deductible receipt can be emailed to you.
Donate